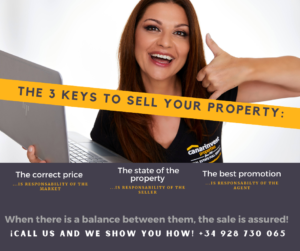 When it comes to sell a property, many houses "burn" on the portals as months and even years pass and the house does not sell, the seller despairs and begins to look for the culprits of the failure.
But only when we are aware that it is about 3 factors that determine whether it is going to be sold or not, and that each one depends exclusively on the responsible for each factor, is success assured.
We always hear the seller say "the price is set by me, for something I am the owner". But it is not like that, the price is set by the market, the famous game between supply and demand. The owner does have the power to accept or deny reality.
The second factor is the condition of the house: a correct sale price is useless if the property is not presented in its best clothes. Someone has to fall in love with the house. This responsibility rests only with the seller. In addition, with the help of a good HOMESTAGING, cleanliness and necessary reparations done, there is nothing that prevents the house from finding a new owner.
And, finally, it is very important that you choose an agent who really knows what he/she is doing, who has extensive knowledge, sufficient human resources and the most appropriate tools to achieve maximum dissemination of the property, without any problems and with highest customer satisfaction.
Canarinvest Properties ¡The best option for the best clients!